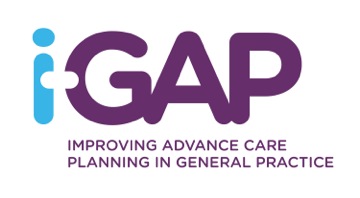 Advance Care Planning (ACP) is the process of considering options for future health care decisions and personal care. An advance care plan is a verbal or written description of what kind of care an individual would want (or not want) and the nomination of a substitute decision maker who can speak for them if they cannot speak for themselves.ACP has been shown to increase the quality of life of dying patients, improve the experience of family members and involved health care professionals, and decrease health care costs. A national poll, however, has demonstrated little awareness of and engagement in ACP.
Help us improve care
i-GAP is a research project that is intended to increase the participation of patients and families in ACP in primary care settings.  There are two components to the project:
DECIDE: online survey for physicians, nurses and allied health professionals to determine barriers to engaging patients in ACP, and the role you may play in communication and decision making about ACP
ACCEPT: a survey for patients to determine the extent to which they and their families have engaged in ACP, and what barriers and facilitators to communication about wishes and values they perceive 
Participate in the study
We are seeking primary care physicians and family practice clinics to participate in this important project. You can participate by taking the online DECIDE survey, or by engaging in both the DECIDE and ACCEPT studies.  
If you are a physician interested in completing the DECIDE ACP survey for health care providers, complete the online form
If your practice is interested in completing the DECIDE ACP survey for health care providers, please contact This email address is being protected from spambots. You need JavaScript enabled to view it. for more information
If your practice is interested in completing the ACCEPT patient ACP survey and DECIDE ACP survey for health care providers please contact This email address is being protected from spambots. You need JavaScript enabled to view it. for more information
For more information about the i-GAP study and participating in both ACCEPT and DECIDE, please contact This email address is being protected from spambots. You need JavaScript enabled to view it.
Study Tools
i-GAP study tools: